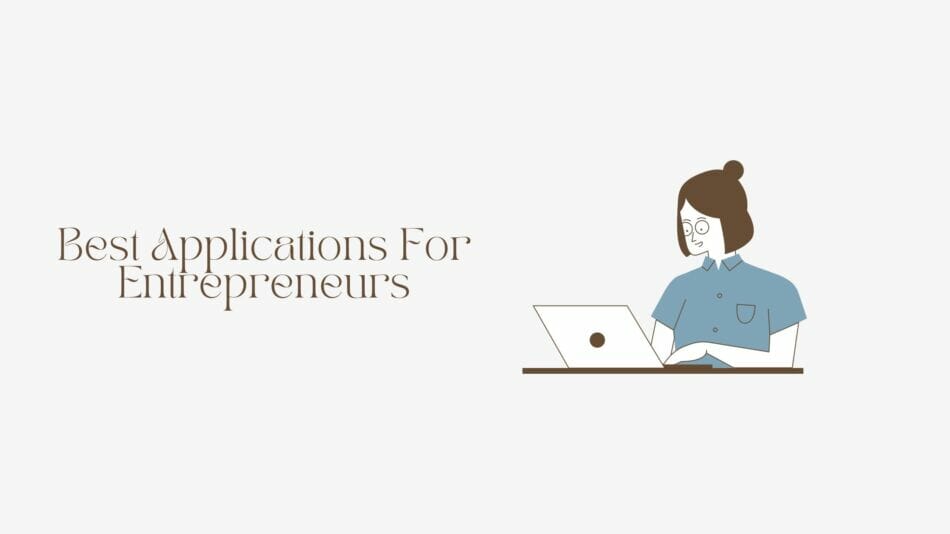 This is our review of the best applications for entrepreneurs.
The best applications for entrepreneurs are those that make your work easy, make you productive, and grow your knowledge.
I'm an entrepreneur who researched dozens of applications to find the best application out there for you.
And, I found that Audible is the best overall application for every entrepreneur.
Every person has different needs, so I have also reviewed other applications that might come in handy for an entrepreneur.
Let's get started.
Our Best Applications for Entrepreneurs
Key Features:
Audiobooks
Sleep tracks
Meditation programs
Podcasts
Starting Price: Your Audible membership is free for 30 days.
Audible is a website that is owned by Amazon, which offers audiobooks. Audible has more than 300,000 titles, making it one of the largest sellers and producers of audiobooks. You can find any title that you like.
With Audible, you get a free trial for 30 days, and you can cancel your membership at any time. The good thing is Amazon will send you an email before your trial ends so that in case you want to cancel your membership, you won't be charged for the next month.
There are two plans available in Audible. The two plans are 'Plus Membership' and 'Premium Plus Membership.'
Both plans have a 30 days trial. With the Plus Membership, you will get access to the Plus catalog, which includes a selection of Audible originals, audiobooks, and podcasts.
While on Premium Plus Membership, you will get access to everything in the Plus catalog, and you will also get one credit to purchase one title of your choice (1 credit = 1 title) regardless of price. Also, you will get exclusive discounts with Premium Plus Membership.
Click here to get your Audible membership!
Key Features:
Outsourcing
Largest Marketplace for Buying and Selling Services
Broad Categories Available
Cheap Prices
Starting Price: $5 
At some point in your entrepreneurial journey, you will need to outsource some of the work to scale your business; this is where Fiverr comes in help.
Fiverr is a marketplace where people buy and sell services. Fiverr has more than 3 million gigs in their database; you can get any service in any category. 
The gigs' price starts from $5, which is pretty cheap. So you can get high-quality service for just a few dollars.
Fiverr has outstanding support; they will resolve your queries within 24 hours after submitting a ticket.
Fiverr has an SSL certificate, which means all the transactions on the platform are secure.
The great thing about Fiverr is that you can find high-quality freelancers using the Fiverr rating system and reviews from other customers.
But, some hustler freelancers on the platform will try to take advantage of you by not providing the same quality service as advertised. So you need to make sure you are going to buy gigs with high ratings and good reviews.
You can also use Fiverr to sell your services as a freelancer.
Click here to get started on Fiverr!
Key Features:
Graphic Designing
Branded Templates
Background Remover
Animations
Starting Price: $9.99 per month
Canva is a designing tool for complete beginners. If you want to design something such as a blog banner or Instagram post and don't know how to use photoshop, then Canva is the software for you.
You can use Canva for everything from printables to PDFs to infographics and so on.
Canva is very easy to use, and it is best for those who want to design things fast.
Canva gives you access to 100+ million high-quality stock videos, photos, and graphics to use anywhere.
Canva has countless branded templates which you can use according to your needs. Branded templates help you make your banners/posts more quickly. You just need to choose a template for your design and then edit it.
Canva has an image background remover feature which allows you to remove the background of an image with just one click.
Though Canva is excellent software, it has some limitations. For example, you don't get all the features that come with Photoshop. But still, Canva is a fantastic tool for entrepreneurs, small business owners, or marketers who want quick and easy designs.
Click here to start your free trial!
Key Features:
Secure Internet
Thousands of Servers
Uninterrupted Streaming
Easy to Use
Starting Price: $4.13 per month

NordVPN will encrypt your online data so that third parties can't monitor nor misuse it.
For example, Internet service providers sometimes track your internet traffic and sell your data to advertisers. Hackers may exploit your unsecure internet connection and get access to your computer or phone. The government may spy on your online activity.
To avoid all these issues, NordVPN comes in handy.
NordVPN is the fastest VPN in the market. So you don't need to sacrifice fast internet for security.
You will not face buffering while streaming.
NordVPN has more than 5300 servers in 60 countries which means no internet censorship. You can access any website from anywhere in the world.
Key Features:
Website Builder
Online Store Builder
Drag and Drop Editor
Beginner Friendly
Starting Price: $4.50 per month
Wix is a drag-and-drop website builder. You don't need to know coding to create professionally-looking websites using Wix.
Wix is easy to use and scalable for anyone. You can use Wix to create anything from personal online portfolios to small business websites.
Wix offers a significant number of e-commerce tools that you can use for building online stores.
Wix has excellent support; if you face any problem, the support team will resolve your issue quickly.
Wix has more than 200 million users across 190 countries worldwide. You would have guessed how well-known Wix is by the number of users. The popularity of Wix all boils down to how easy it is to use Wix to create outstanding websites.
However, Wix isn't for everyone. If you desire control over your hosting, updates, or uptime, then Wix isn't for you.
Click here to get started on Wix!
Key Features:
Online Fax Service
Free Custom Fax Number
Unlimited Fax Storage
Multiple Fax Recipient
Starting Price: $4.99 per month
Countless businesses worldwide use fax for communications. However, setting up a fax machine can be costly. So this is why most businesses now prefer online fax services to handle their fax needs.
Cocofax is a platform to send faxes from your computer or phone directly through the internet. You can send faxes without a phone connection or even a fax machine.
Cocofax is not only limited to computers or phones, but you can also send and receive faxes through any device with an internet connection.
Our Verdict
Every entrepreneur needs some application to make their job easy. Above I have mentioned six applications that you must try.
But the best application I recommend is Audible. Because books are essential for a growth mindset. And, sometimes we don't have enough time to read books, so this is where audiobooks come into play.